2016 Aamir Khan Productions. All Rights Reserved.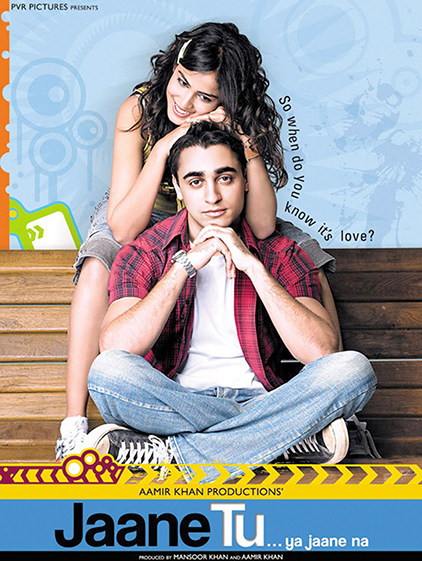 JAANE TU YA JAANE NA
Meet Jai Singh Rathore – 'Rats' (Imran Khan), the most non-violent Rajput either side of the Aravallis. And meet, if you dare, Aditi Mahant – 'Meow' (Genelia D'Souza). Whatever you do, do not pick a fight with her. She scratches. And abuses. If you do get into a scrap, take cover till Jai arrives, as he alone can calm our snarling wildcat. Jai thinks Aditi's parents should have rinsed her mouth with soap when she was a child. Aditi thinks Jai is the biggest coward she has ever encountered. 
Director:
Abbas Tyrewala
Writer:
Abbas Tyrewala
Producer:
Aamir Khan, Mansoor Khan
Musician:
A.R. Rahman
Cinematographer:
Manoj Lobo
Film Editor:
Shan Mohammed
Casting by:
Pakhi
Cast:
Imran Khan - Jai Singh Rathore
Genelia D'Souza - Aditi Mahant
Manjari Phadnis - Meghna
Ayaz Khan - Sushant Modi
Karan Makhija - Rotlu
Sugandha Garg - Shaleen
Nirav Mehta - Jiggy
Alishka Varde - Bombs
Renuka Kunzru - Mala
Prateik - Amit
Anuradha Patel - Pumpkin
Jayant Kripalani - Peachy
Ratna Pathak - Savitri (as Ratna Pathak Shah)
Padam Bhola - Vivek
Shakun Batra - Nilesh
Naseeruddin Shah - Amar Singh
Jerrit John - Bartender
Sohail Khan - Bhalu
Arbaaz Khan - Bagheere
Paresh Rawal - Vaghmare
Omprakash - Hawaldar Gaikonde
Rajat Kapoor - Meghna's dad
Kitu Gidwani - Meghna's mom
Urvashi Shah - Richa
Uditanshu Mehta - Vikram
Deepak Dadhwal - Sushant's dad
Veena Mehta - Pammi
Murli Sharma - Officer airport
Production Designer:
Malini Khan, Aparna Raina
Costume Designer:
Nuzhat Khan, Ashley Rebello